#1

How Sharks Glow to Each Other Deep in the Ocean
The home of the swell shark and chain catshark is about 1,000 to 2,000 feet below sea level, a place where only blue beams in sunlight can penetrate. Look at them with your human, land-ready eyes, and all you'll see are a couple of unimpressive fish, spotted in shades of brown, beige and gray. But peer through a blue filter, more like the way these sharks see each other, and behold beaming beauties robed in fluorescent green spots. Recently scientists discovered that these sharks see the world totally differently than we do. They're mostly colorblind, with eyes that can detect only the blue-green spectrum. This means when the sharks appear to change color in the blue water, they're almost projecting a secret code to other sharks: One pattern male, the other female — come and get it. But just how they take blue light from their dull environment and transform it into a neon sign has been a mystery. Researchers have recently discovered that molecules inside their scales transform how shark skin interacts with light, bringing in blue photons, and sending out green. This improved understanding of these sharks' luminous illusions may lead to improvements in scientific imaging, as the study of biofluorescence in other marine life already has. This phenomenon is widespread, and these sharks are among at least 200 marine species known to color their dim oceanic world through biofluorescence. But the molecules these shark species use are nothing like the painting tools that other species use.
Earth's Last Magnetic Field Reversal Took Far Longer Than Once Thought – (PhysOrg – August 7, 2019) The magnetic North Pole is currently careening toward Siberia, which recently forced the Global Positioning System that underlies modern navigation to update its software sooner than expected to account for the shift. And every several hundred thousand years or so, the magnetic field dramatically shifts and reverses its polarity: Magnetic north shifts to the geographic South Pole and, eventually, back again. This reversal has happened countless times over the Earth's history, but scientists have only a limited understanding of why the field reverses and how it happens. New work from University of Wisconsin-Madison geologist Brad Singer and his colleagues finds that the most recent field reversal, some 770,000 years ago, took at least 22,000 years to complete. That's several times longer than previously thought, and the results further call into question controversial findings that some reversals could occur within a human lifetime. The new analysis—based on advances in measurement capabilities and a global survey of lava flows, ocean sediments and Antarctic ice cores—provides a detailed look at a turbulent time for Earth's magnetic field. Over millennia, the field weakened, partially shifted, stabilized again and then finally reversed for good to the orientation we know today. The results provide a clearer and more nuanced picture of reversals at a time when some scientists believe we may be experiencing the early stages of a reversal as the field weakens and moves.
The Radical Transformation of the Textbook – (Wired – August 4, 2019) For several decades, textbook publishers followed the same basic model: Pitch a hefty tome of knowledge to faculty for inclusion in lesson plans; charge students an equally hefty sum; revise and update its content as needed every few years. Repeat. But the last several years have seen a shift at colleges and universities—one that has more recently turned tectonic. In a way, the evolution of the textbook has mirrored that in every other industry. Ownership has given way to rentals, and analog to digital. A company called Chegg launched the first major online textbook rental service in 2007; Amazon followed suit in 2012. Both advertise savings of up to 90% off the sticker price. But as students flock to more affordable options, textbook prices have skyrocketed to make up for the lost revenue. The price of textbooks has increased 183% over the last 20 years, according to the Bureau of Labor Statistics. Within the broad strokes of that transition, though, lie divergent ideas about not just what learning should look like in the 21st century but how affordable to make it. Pearson is one of the biggest publishers of educational books in the world, with a roster of 1,500 textbooks in the US market. Last month, it announced that going forward it would still produce physical textbooks, but students will rent by default with the option to buy after the rental period ends. It enables Pearson to staunch the bleeding caused by an explosion in the second-hand market. Pearson's digital-first strategy is a significant step toward a more sustainable business model. Under the new system, ebooks will cost an average of $40. Those who prefer actual paper can pay $60 for the privilege of a rental, with the option to purchase the book at the end of the term. But increasingly, colleges are embracing textbooks that cost … nothing.
#5

Penny Kelly on PostScript Show
#6

Cannabis and Man: Coevolution and Sacred Connection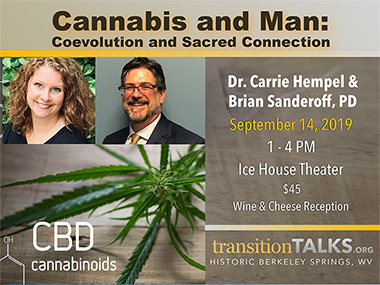 Drs. Brian Sanderoff and Carrie Hempel come to TransitionTalks in Berkeley Springs on September 14th to discuss the extraordinary indicators that suggest that cannabis (and other hallucinogens) seem always to be an integral part of great changes in our species. Dr. Sanderoff is the medical director for one of the largest medical marijuana clinics in Maryland and brings a lifetime of experience from the profession of pharmacology. It will be a fascinating – and provocative - afternoon. Get complete information at TransitionTalks.org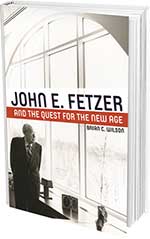 Our friends at The Fetzer Memorial Trust would like to give you a free hard-cover copy of the book "John E. Fetzer and the Quest for The New Age" by Brian Wilson, Ph. D.
John E. Fetzer, was a pioneer in the broadcast industry, owner of the World Series Detroit Tigers, advisor to two presidents and one of America's 400 most wealthy individuals. Driven by a deep spiritual quest and interest in scientific exploration he is a true inspiration.I found this biography of John Fetzer most interesting. Here was a titan of industry who had another life that was involved in helping to fund and enable a great deal of research in the metaphysical area and who set up a major foundation that continues to explore the leading edge of our reality.The Fetzer Institute has always had a very impressive, big outlook on this world and what was possible and I'm pleased that they are making this hardcover book available at no cost to FUTUREdition subscribers.
#9

FUTURE FACTS – FROM THINK LINKS
This list is closed for submission.