Turning Government Upside Down: A Vision for a New World
Replay tickets available for a limited time.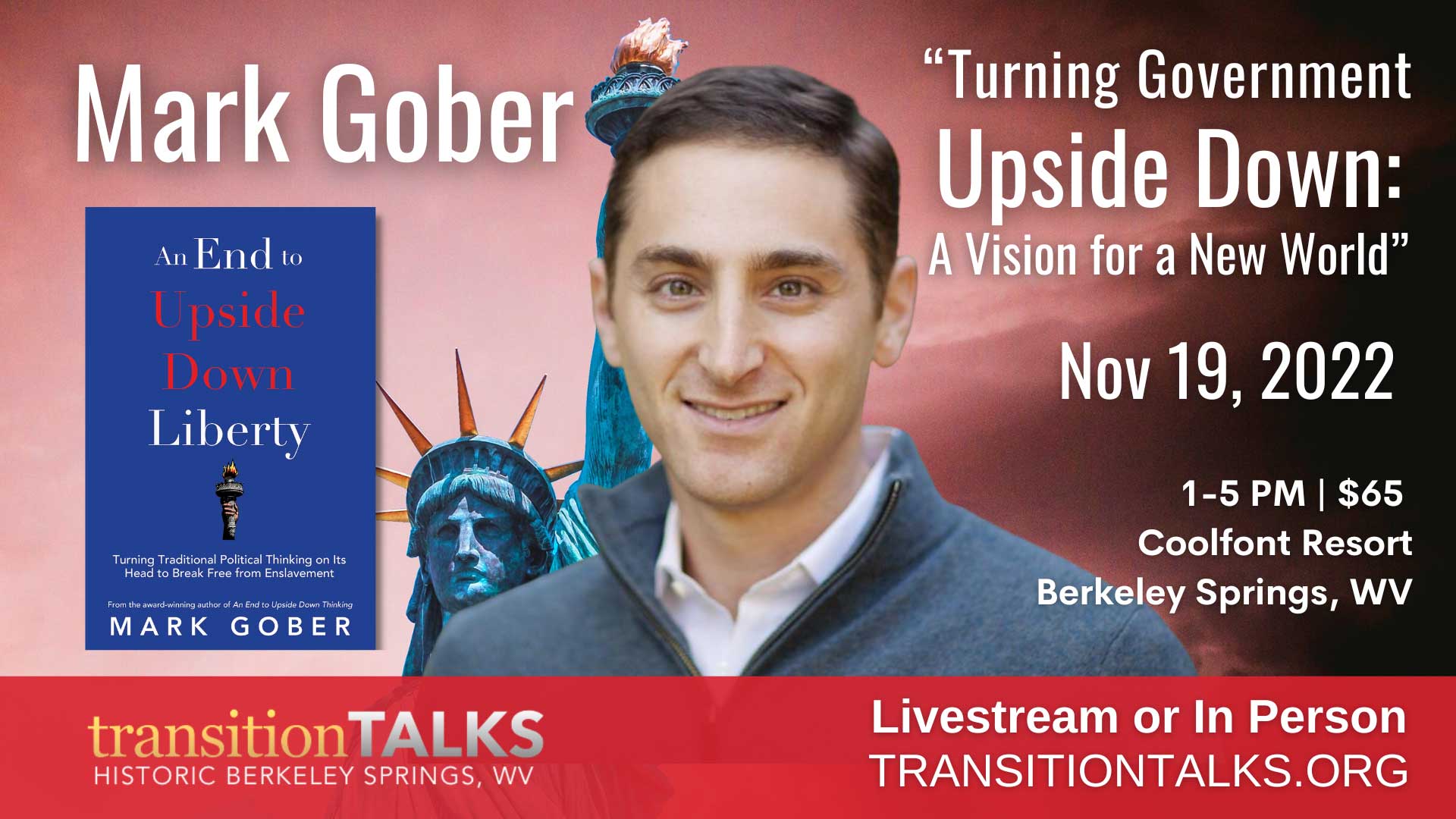 How should our world be structured? Author Mark Gober will tackle this big question by laying out a societal framework that blends metaphysics and politics. He will examine the nature of reality through an exploration of consciousness, quantum physics, philosophy, "paranormal" phenomena, and beyond. Within this context, politics takes on a whole new meaning. Many aspects of our existing governing structures, which are commonly taken for granted, make less sense from a more metaphysically evolved standpoint. Mark will highlight such often-overlooked political and economic assumptions to chart the path to a new organizational structure for our future. Ultimately, we may be in the midst of a metaphysical battle between Good and Evil—including potential "aliens" and "multidimensional" lifeforms—so these topics are essential for our survival.  
Join us Saturday, November 19th, in person or via livestream. Get tickets below.
Mark Gober is the author of An End to Upside Down Thinking (2018), which was awarded the IPPY award for best science book of 2019. He is also the author of An End to Upside Down Living (2020), An End to Upside Down Liberty (2021), and An End to Upside Down Contact (2022); and he is the host of the podcast Where Is My Mind? (2019). Additionally, he serves on the board of the Institute of Noetic Sciences and the School of Wholeness and Enlightenment. Previously, Gober was a partner at Sherpa Technology Group in Silicon Valley and worked as an investment banking analyst with UBS in New York. He has been named one of IAM's Strategy 300: The World's Leading Intellectual Property Strategists. Gober graduated magna cum laude from Princeton University, where he wrote an award-winning thesis on Daniel Kahneman's Nobel Prize–winning "Prospect Theory" and was elected a captain of Princeton's Division I tennis team.
ALL TICKETS INCLUDE ACCESS TO THE REPLAY!
ALL TICKETS INCLUDE ACCESS TO THE REPLAY!