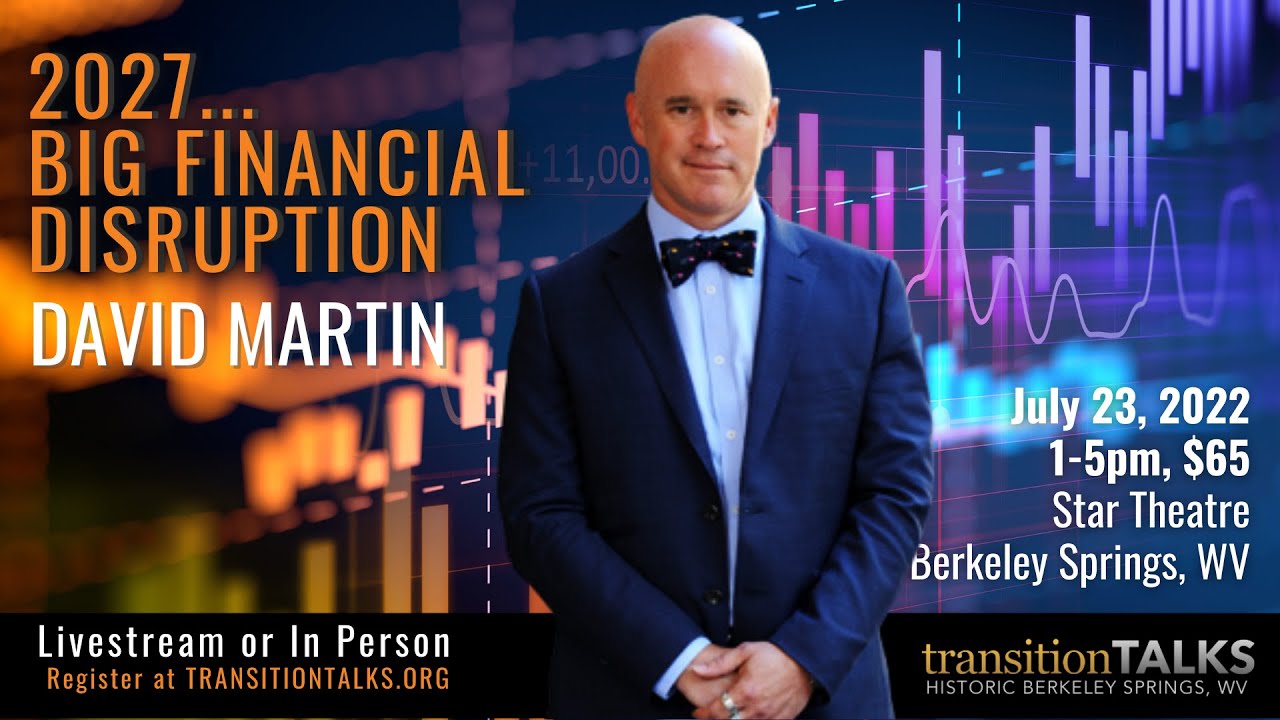 One of the largest financial crises of our lifetimes occurred in 2008. Starting with the US Congress voting in an emergency session for a $700 billion bailout of the banks which had issued thousands of subprime mortgages to individuals who were not qualified to pay them, there followed a huge freefall that, among many other things, resulted in the collapse of Lehman Brothers investment bank and a loss in household wealth in the US of $11 trillion.
Almost 18 months before that event, In July 2006, Dr. David Martin gave two Arlington Institute Spring Side Chats in Berkeley Springs laying out the coming events that would begin in December of 2007 and become known as the Global Financial Crisis of 2008. It was an extraordinary example of predictive analysis.
Similarly, in 2012, Dr. Martin laid out the events that would usher in the State Council of China's Belt and Road Initiative and anticipated the use of bioterrorism as an agent of enabling the associated geopolitical instability.
Now David Martin comes again to Berkeley Spring to TransitionTalks in July of 2022 – 17 years after John Petersen and David met — to once again paint a picture of a great, inbound disruption guaranteed five years from now, at which time the United States will become bankrupt, unable to pay social security, Medicare, Medicaid and the pensions of many millions of people, This upheaval will occur along with many other converging factors that promise a near future that will be unlike anything that any of us have experienced before.
Come and hear Dr. Martin detail what is in our future and talk about what we can do to prepare for this extraordinary event.
Dr. David Martin founded M·CAM® in 1998 and has served as its CEO and Chairman since that time. M·CAM® has been an international intangible asset underwriter and analyst firm spanning work in innovation finance, trade, and intangible asset finance.
Dr. Martin is the developer of several innovation-based quantitative indices of public equities and is the Founder of the Purple Bridge Funds. He managed the Innovation Alpha ETFs (NYSE:INAU; NYSE:INAG; and NYSE:TWAR).  He is the creator of the public equity index – the CNBC IQ100 powered by M·CAM® which now is reported as a leading economic indicator for the U.S. and Global Innovation Economy published by The Conference Board.
As a spokesperson for global financial and intangible asset accountability and quality reform, Dr. Martin has worked closely with the United States Congress and numerous trade and financial regulatory agencies in the United States, Europe, and Asia in advocating and deploying infrastructure to support growing reliance on contract and proprietary rights in business transactions. Under the leadership of Dr. Martin, M·CAM® has supported the modernization of banking, intangible asset, tax, and accounting laws through its work with oversight agencies and policy makers. This work included work with the United States Congress, the Financial Accounting Standards Board, the United States Departments of the Treasury and Commerce, the European Union and many other countries. Dr. Martin received his undergraduate (BA) from Goshen College, his Masters of Science from Ball State University, and his Doctorate (PhD) from the University of Virginia.
Dr. Martin is a Batten Fellow at the University of Virginia's Darden Graduate School of Business Administration.