Robert David Steele – EARTH 4.0: After the Defeat of the Empire, The Rise of Humanity as Lords of Light and Love
April 17, 2021
@
1:00 pm
–
5:00 pm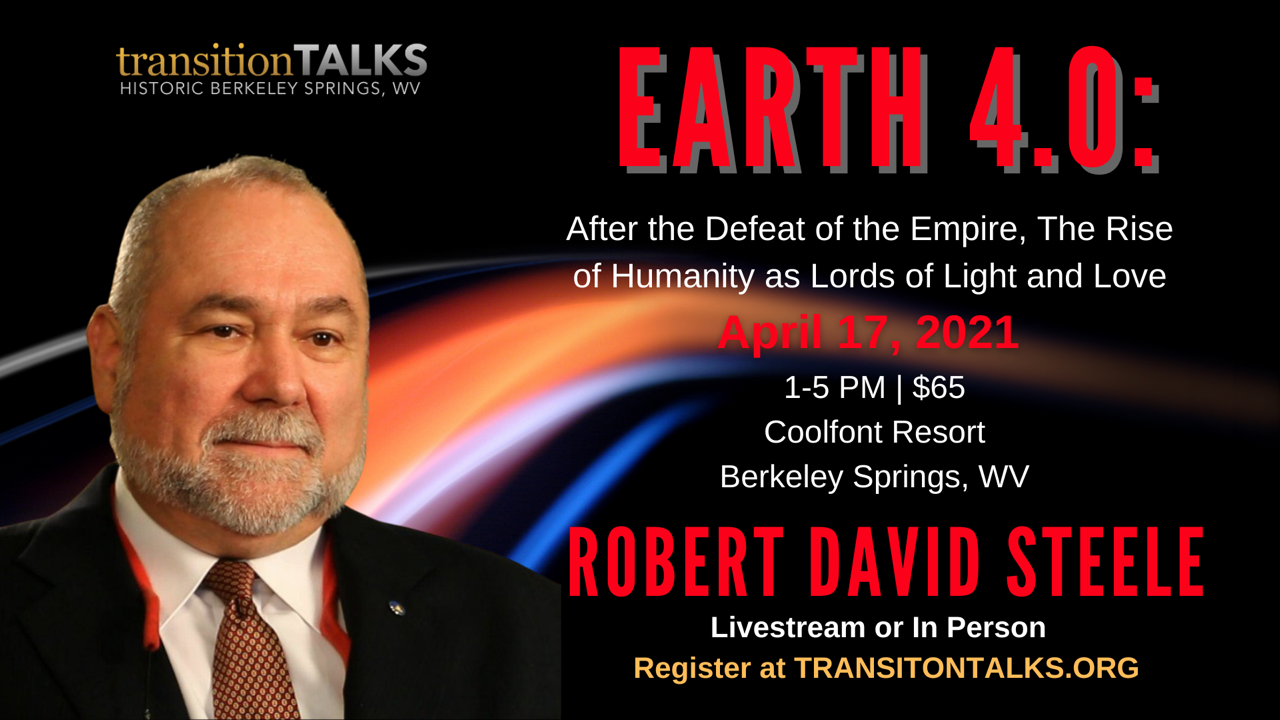 In Person Tickets are SOLD OUT, but your can still join via Livestream and the replay! Livestream tickets include access to the replay for two weeks following the original event.
As in any state change in a large, complex, dynamic system (like water turning to ice), the tell-tale indications of the impending shift begin to show up independently across the old reality before the system ultimately flips to the new state. The system that supports human life on this planet is clearly a large, complex, highly dynamic system and similarly, if you carefully look around, it's relatively easy to identify some of the attractors at the leading edge of this huge change that could well come together to become the basis of a new way to live. Big thinker, Robert David Steele returns to Transition Talks in May to paint the picture of how a number of the break-through concepts and initiatives that he has developed could mesh into a dramatically new "operating platform" that would indeed be a New World.
Think of living where the basic machines of life (tractors, trucks, etc.) were one-tenth of the cost of current machines through the implementation of Open Source Everything Engineering (OSEE), where the true costs of a product – including the environmental, disposal and social impact costs – were built into the process of purchasing, dramatically changing the incentives for both development and the market for products. This world would probably have a radically different form of government where, by way of the Internet, citizens could participate far more directly in the big decisions that will affect the future of the country. It would also have a whole new "Internet", where information flowed freely and unobstructed between and among everyone who wanted to participate. These big ideas, and a number of others, clearly offer the potential for the design of an emergent new world.
Robert will begin his lecture with a summary of his four new video documentaries — Lucifer & His Cult — How 1% Have Controlled & Looted the 99% directed by Sacha Stone; #UNRIG Elections (directed by Dr. Cynthia McKinney); Wall Street Treason & Crime (directed by himself); and Satanic Empire (directed by Sean Stone). He will then proceed to define his approach to creating an Earth and life-centered world that rejects globalization, treason, elite pedophilia, and white collar crime protected by the state, and instead creates a prosperous world at peace, a world that works for all, particularly the bottom billions.
Join us for an afternoon with Robert David Steele where he weaves together his big ideas into an integrated picture of a potential new world – that would address some of the most fundamental human problems of our lifetimes.
Robert David Steele is the pro bono Chief Enabling Officer (CeO) of Earth Intelligence Network, a 501c3 devoted to teaching holistic analytics (HA), true cost economics (TCE), and open source everything engineering (OSEE) and now also CeO of Open Source Everything (OSE Inc.), a for-profit that seeks to help all countries create a prosperous world at peace, a world that works for 100% of humanity, at 10-20% of the cost of the failed Western economic model.
Former spy, former Marine Corps officer, a proponent of Open Source Everything, Presidential candidate in 2012 and perhaps again in 2024, recommended for the Nobel Peace Prize in 2017, Mr. Steele has authored many books on intelligence reform, electoral reform, false flag Deep State threat, national security reform, and engineering reform.
You can learn more about Robert David Steele and his work at his website, robertdavidsteele.com.
For those who have not seen his previous epic lecture for TransitionTalks: Steele on Books and America: Love it or Lose it! VIDEO++
Livestream tickets include access to the replay for two weeks following the original event.