John Petersen – The Practical Process of Becoming a New Human
December 12, 2020
@
1:00 pm
–
4:00 pm
EST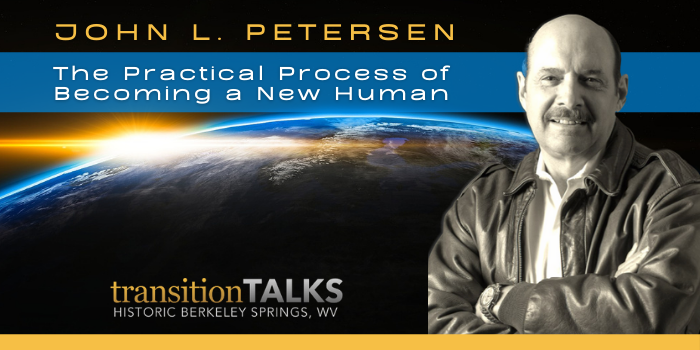 The Practical Process of Becoming a New Human.
We are full into the most significant change in human history. The result will be the emergence of a new human . . . and then a new world, built around the new values, perspectives and capabilities of the new humans.
This is a huge transition, where the old, familiar world implodes (perhaps you've noticed that that is happening all around us), providing a "vacuum" for the emergence of a new world – a planet where ultimately there is no war and humans see themselves, in general, as an integral part of all that is, and specifically and directly connected to all of nature and life on earth.
The new human is, by definition, "new" – having a very different outlook and functions from what we have all grown up with. So, the trick is, how do those of us who are the early leaders of this transition, morph our way from who we have been – built around a set of ideas that supported the old reality — to who we need to become, in order to both transit these extraordinary times where everything is collapsing around us and truth is increasing hard to isolate, to the next stage of planetary "stability" and human transformation.
Think of it as though you needed to drive through a war zone of unusual uncertainty and having to contemplate the appropriate vehicle to make the trip. You could choose a motor scooter or a Cadillac . . . or a new or used pickup truck . . . or anything else. There is almost certainly just one configuration that would provide the best combination of speed, protection and other requirements to get you safely to your destination.
It's the same here. What is the "operating environment" that you really need in order to effectively – and safely – make it through to the other side of this historic shift? It will necessarily be a period where many, if not most, people will not be able to navigate around all of the minefields. They will be stretched to breaking from all of the conflicting forces, demands and uncertainty.
But some people will be ready and prepared for this epic transition. They will be the vanguard of the founders of the new world. That's what this TransitionTalk is all about.
There is a clear path that will describe the emergence of the new human – requirements and perspectives that are quite different from and those that we have been living with. In this December presentation, futurist John Petersen will paint a picture of what will be personally required to move confidently through the coming months and years. Hint: you will have to find a place of "no fear," so that you can clearly make the big decisions that will be required for your life. You will have to see yourself in quite a different way that disengages you in significant ways from all of the major social and institutional entities that have defined you in the past. You will need to develop a new sense of "personal sovereignty" and freedom to make it to this new world. In the process you will acquire a set of extraordinary new capabilities!
This will be a transformative presentation, that takes you step-by-step through a new understanding of who you are and how you must position yourself for the coming disruption . . . to practical suggestions about how to daily contribute to manifesting your own new world out of all of the change.
If you think you have a role to play in helping to facilitate the transition to the new world, you don't want to miss this important day!
The In Person tickets also include access to the replay for two weeks following the original TransitionTalk.
The Livestream tickets also include access to the replay for two weeks following the original TransitionTalk.